Houston area schools beef up security after Florida shootings – Houston Chronicle
February 25, 2018

Posted by:

Moise Louissaint

Category:

Security Guard News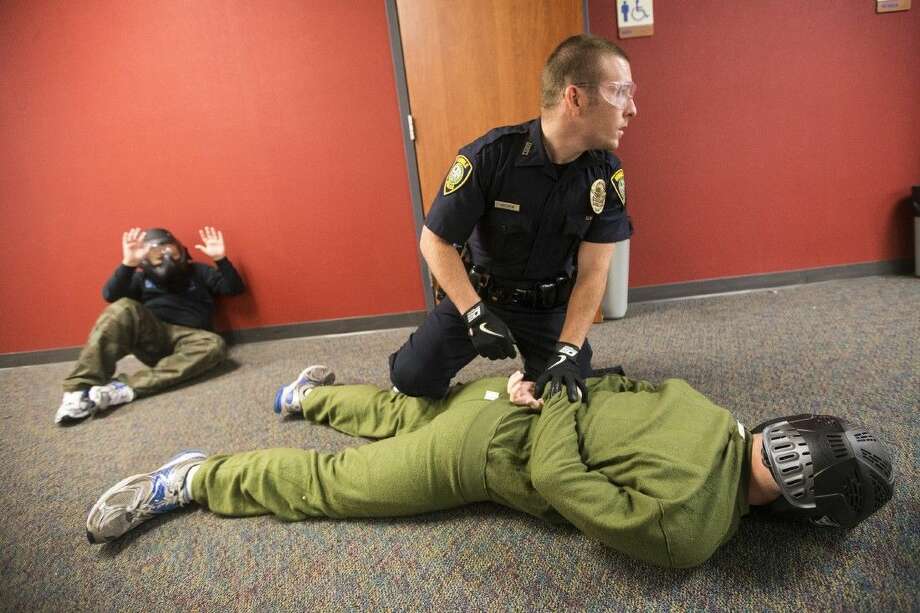 Photo: Andrew Buckley
At a 2014 police training class, Humble Police officer Kole Holden secures a "shooter" at Atascocita High School.
At a 2014 police training class, Humble Police officer Kole Holden…
Houston-area law enforcement officers have beefed up patrols of local schools after a mass shooting at Stoneman Douglas High School in Parkland, Fla. killed 17 on Wednesday.
Fort Bend ISD Superintendent Charles Dupre wrote in a blog post that school district police officers will increase patrols at campuses this week, and Precinct 4 Constable Mark Herman said his deputies will conduct more patrols and well-being check-ins at schools in Klein, Humble, Tomball, Spring, and Cypress-Fairbanks ISD for the foreseeable future.
"We made that decision because in this day and time, in light of what's occurring all around us and most recently in Florida, we don't want to take any chances," Herman said. "We want to err on the side of caution in case anyone tries to emulate what's going on in Florida."
RELATED: Former student opens fire at Florida high school, killing 17
Translator
To read this article in one of Houston's most-spoken languages, click on the button below.
Education
Local school police say officers are trained to engage actively

Armed teachers? In some Texas classrooms, the answer is 'yes'

Police, school districts see an increase in threats after Florida

Despite recent incidents, guns at local schools are rare, TEA

Houston-area schools beef up security after Florida shootings
Herman said his officers will check in with schools every day as part of their regular patrols.
In Cypress-Fairbanks ISD, schools already have fortified their buildings in an effort to prevent large-scale shootings like those seen in Sandy Hook, Connecticut, and most recently in Broward County, Florida.
Cy-Fair ISD Police Chief Eric Menendez said most school entrances now feature bullet-proof glass so they cannot be shot out by someone trying to get into the campus, as was the case in Sandy Hook. Others have automatically-locking doors that only can be opened by someone in the school's front office. Many funnel visitors into an isolated entryway that requires people to go into the front office before entering the rest of the school building.
RELATED: Houston ISD says officers train for school shootings
Two CFISD police officers are stationed at each of the district's high schools and one is assigned to each middle school. The police department's patrol unit checks in with the district's elementary schools regularly.
And every few months, students, staff members, and police officers train for worst-case scenarios.
There are drills for severe weather, campus intruders, active shooters, and violent crime happening near campus.
The goal, Mendez said, is to make sure students know how to act.
"We want it to be second nature for them," Mendez said. "As my old football coach used to say: You play the game the way you practice."
On – 15 Feb, 2018 By
Please follow and like us: